Fin fond du Lot to near Cazals: Please Mr. Wild Boar, don't crush my tent!
---
Map
Statistics for today
| | | |
| --- | --- | --- |
| Distance | 86.21 kms | 53.44 miles |
| Climbed | 1,081 meters | 3,547 feet |
| Ride time (hours) | 5.13 | - |
| Avg speed | 16.8 kph | - |
Statistics for trip to date
| | | |
| --- | --- | --- |
| Distance | 438.25 kms | 272.16 miles |
| Climbed | 2,506 meters | 8,222 feet |
| Ride time (hours) | 26.98 | - |
On this page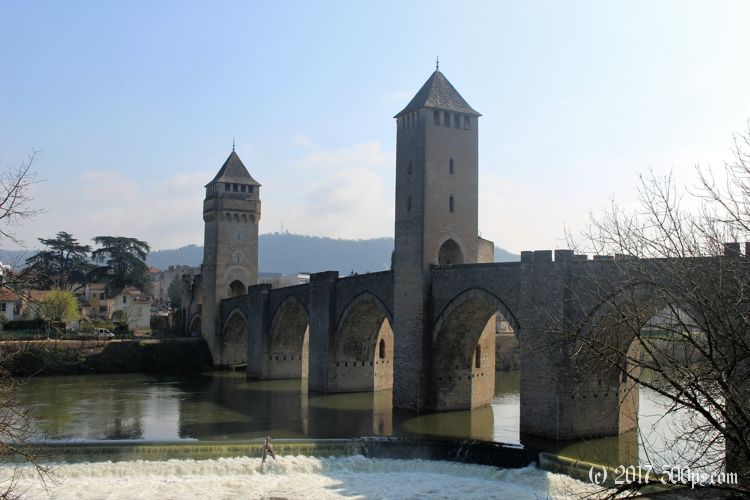 Tuesday, March 14th, 2017
Cahors, the hills of Quercy, and a fabulous campsite overlooking the Gorges de l'Aveyron. To top off the evening, a sanglier (wild boar) scares the living shit out of me.
No rush to get started this morning, a leisurely breakfast with my friends and some long goodbyes, until next year! First order of business is going down to Cahors to run some errands and get supplies. It's 20k of little hills then a big descent off the plateau down to the city, a small but pretty town with a restored 14th century bridge over the Lot river.
The weather is great for the season, around 20 degrees and bright sunshine; and according to the forecast the rest of the week promises the same. The positive outlook motivates me to explore a new way back to Narbonne through the mountains to the east. I've been through there before on the motorcycle but it was 10 years ago and I've only a vague memory of it being a nice area...I will get a much better sense for the region at my snail's pace on the bicycle.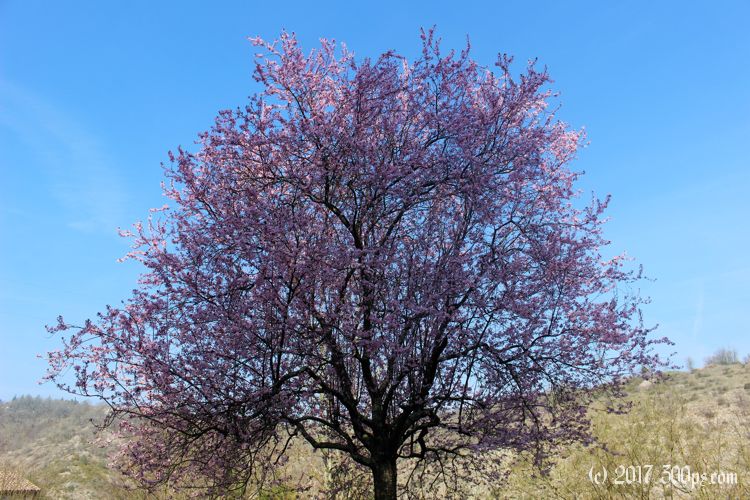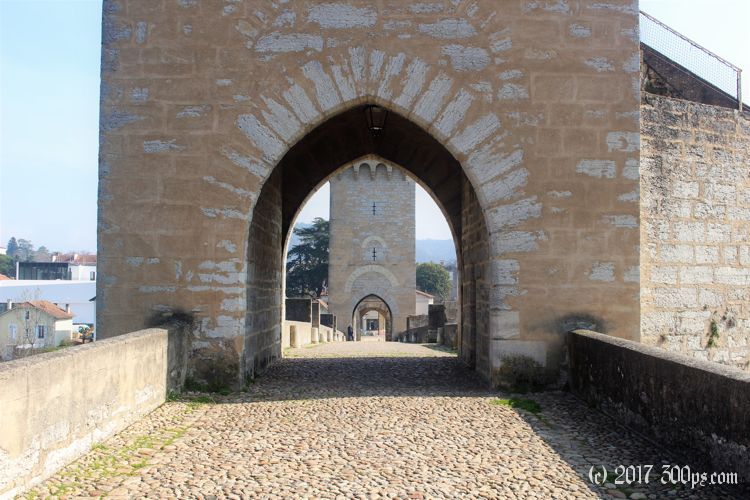 A bunch of young SDF (sans domicile fixe = homeless, a friend of mine taught me a new term for them: punks à chiens = roughly, "punks with dogs") are hanging out in front of the supermarket where I need to get supplies. I lock it up as best as I can but with all the accoutrements of bicycle touring hanging off my bike it would be easy to steal stuff. I find this part of touring, leaving my bike and bags somewhere while I have to do something, to be the most stressful thing about this particular form of travel. I'm probably being overly paranoid -- it's unlikely someone would want to risk stealing my dirty socks in broad daylight in the middle of a city -- regardless I rush to finish my shopping and get back to my steed.
Right out of Cahors the climbing starts. The rest of the afternoon is spent in the rolling hills of Quercy, much of it in the Parc naturel régional des Causses. I'm thinking I'll find a campsite before leaving the park but as it turns out the last 20k are fairly open and populated; then once I exit the park it's pure farmland. I decide to shoot for the Aveyron river where I'll be more likely to find a good stealth camping spot.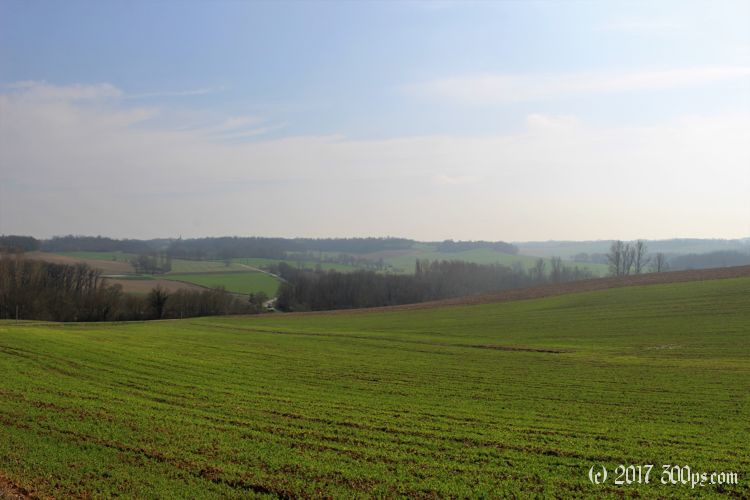 I end up finding a brilliant campsite on public land on the cliffs overlooking the gorges de l'Aveyron. The clearing where I set up the tent even has a fire ring, but I'm not interested in attracting attention to myself so I don't use it. I make a dinner of pasta carbonara.
It's dusk, I'm getting ready to get in the tent, and I hear heavy hoofbeats approaching. 10 meters from my tent is a stand of bushes that blocks my view of the foot path I wheeled the bike up when I arrived. I'm expecting a horse but what rounds the bushes turns out to be a massive sanglier, a wild boar; must be an old male because he is huge. We stare at each other for a moment. I don't have much experience with these animals, the only other time I've seen them is in Spain, and I'm thinking holy shit he just might charge me. I reach down to pick up my camera and he takes off running full-speed into the woods. Bummer I couldn't get off a shot. I figure I've seen the last of him.
An hour later it's dark. I'm in the tent. I hear those heavy hoofs again. He comes very close then lets loose with an infernal grunt? roar? that sounds like a cross between a sick pig and a bear -- holy shit -- my heart is beating a mile a minute. What if he attacks the tent? I'm a gonner if he does. That thing must weigh 150 kilos. I hear him clopping away... this time for good. It takes my heart a good 5 minutes to return to normal.