Introduction: weight weeny wonderland
---
Statistics for today
| | | |
| --- | --- | --- |
| Distance | 0.00 kms | 0.00 miles |
Statistics for trip to date
| | | |
| --- | --- | --- |
| Distance | 0.00 kms | 0.00 miles |
On this page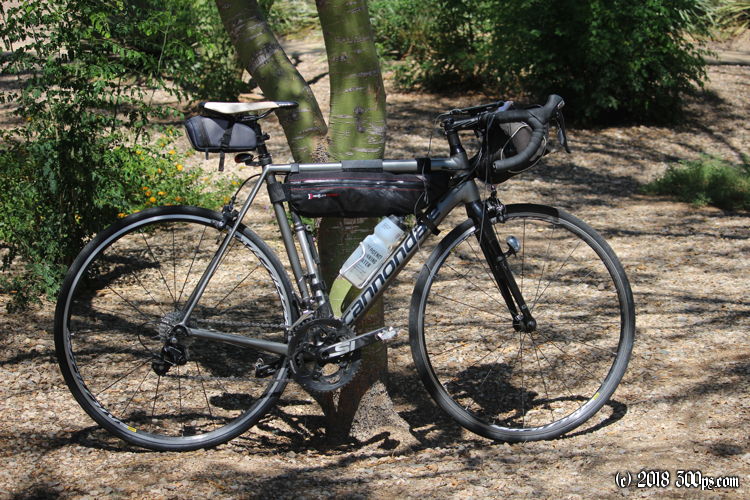 Monday, August 12th, 2019
A friend proposed going to Albuquerque for the weekend and I said: "Sure, I'll meet you there on the bicycle!". My reply was met with disbelief, but I can't pass up a good excuse to get on the bicycle and travel. This will be my first attempt at traveling on a road bike carrying only the minimum necessary to get from point A to point B. Usually I travel heavily loaded with a full camping set up.
If you had told me that one day I would be a weight weeny - as I lugged my 75lb bicycle up the mountains of South America - I would have given you a derisive snort: "Never in a million years!" Yet here I am, looking to shave ounces off my touring set up so I can get to Albuquerque as fast as I can.
For mechanical issues I'll be taking: tire levers, 2 spare tubes, multi-tool, a chain breaker, a short length of chain, lube, pump, and a patch kit.
For clothes I'll have one long sleave shirt (for sun protection), two quick-dry t-shirts, 2 pairs of socks, one chamois padded cycling underwear, two mountain biking shorts with lots of pockets, my face mask (more sun protection), gloves, and a baseball hat.
For electronics I'll have my cellphone, my tablet, one charger that charges both, earbuds, two rear blinking red lights, one blinking front light, my headlamp, my camera, and spare batteries. I'll have a dry bag to put everything into if I get rained on.
The rest is rounded out by basic toiletries, a 2.5 liter camelback (indespensible in the desert), electrolyte packets, and some protein bars.
I bought a bike-packing style frame bag to carry the bulk of the stuff. The camera will go in a small front handlebar bag that I bought at Décathlon years ago. The tools + spare tubes go in the under-the-seat bag. Everything else gets jammed into the carrying space of the camelback. I figure the bike will weigh about 26-27lbs, plus the camelback - when full of water - will weigh about 8 or 9 pounds.