Trondheim to north of Mosjoen: First time meeting long-distance cyclists.
---
Statistics for today
| | | |
| --- | --- | --- |
| Distance | 435 kms | 270 miles |
Statistics for trip to date
| | | |
| --- | --- | --- |
| Distance | 8,894 kms | 5,526 miles |
On this page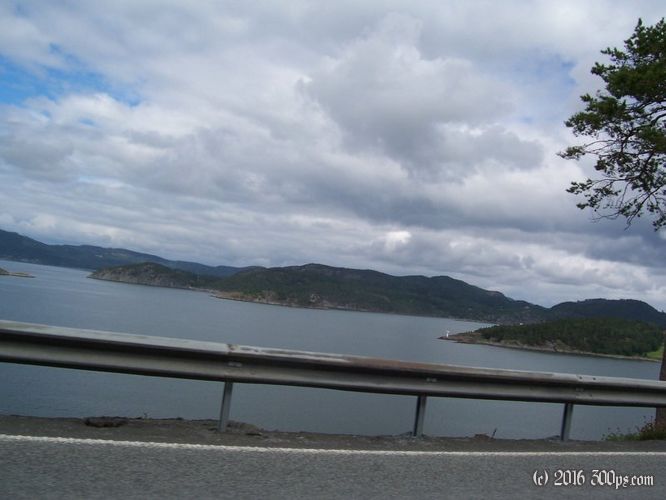 Monday, July 25th, 2005
Chat with the students in the morning. They tell me to scale back my expectations for getting to Nordkapp quickly. They say it is as many miles from Oslo to Nordkapp as it is from Monaco to Oslo. That calms me right down. I go to the bank and my Amex card won't work. I've hit the weekly cash limit on the Mastercard so I have to cash travellers checks. I'm just burning through money in Norway. I'm debating on staying another day in Trondheim so I go to an internet cafe. Around 11 it stops raining and I decide to take off, leave at noon.
E6 all day long. More rain near Grong. Gate to northern Norway. I meet two Flemish Belgians, one of them speaks French. They are coming back from Nordkapp, say they had great weather. They can't believe I flew my bike over from the States. They ask if I've seen any cops and I haven't. They say the stretch from here to Trondheim is notorious for radar traps. Fortunately I've missed them.
Mosjean, tourist office not too helpful, every place is super expensive so I decide to keep going. 5 kilometers out a bed and breakfast is full, I'm kind of glad because the owner with rotten teeth is a bit on the strange side. Keep going, find a place at 8pm. I meet three French guys in their 50's/60's doing a bicycle trip from Oslo to Nordkapp, they plan on taking 18 days. I'm suitably impressed. It occurs to me I might like to do something like that one day :). Cute girl at the reception desk, joking around. Since I've been in Norway I've seen nothing but hot girls working the reception desks. Ca fait plaisir ;) Japanese guy on a Suzuki with British plates.