Day 2: South of Moià to Camprodon
---
Statistics for today
| | | |
| --- | --- | --- |
| Distance | 102.00 kms | 63.38 miles |
Statistics for trip to date
| | | |
| --- | --- | --- |
| Distance | 194.00 kms | 120.55 miles |
On this page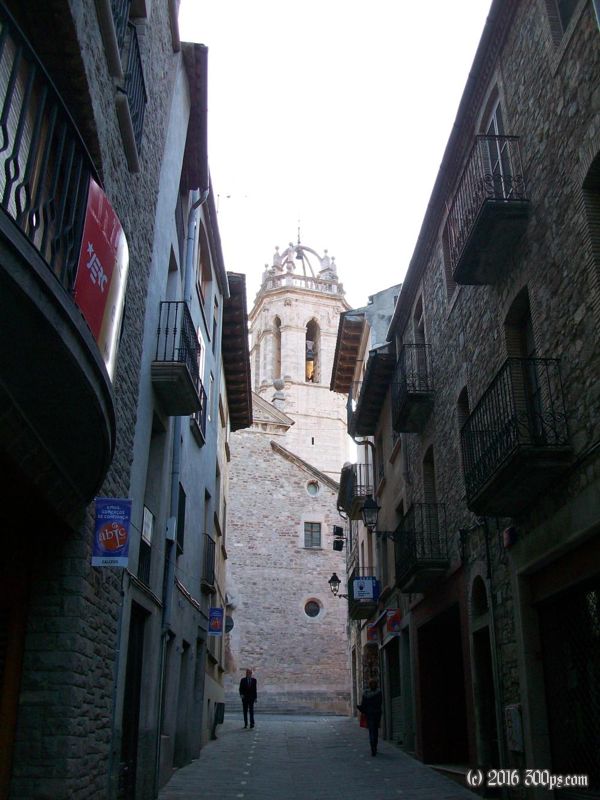 Monday, March 26th, 2012
I broke camp early and was on the road by 7:30, I like to be out of stealth camping spots early to avoid detection. It was up and down all day in the mountains west and north of Vic.
I rode myself into a corner around midday when I dropped down into the valley at Montesquiu. It had appeared on my map that there was an access road next to the C17 highway that I could take into Ripoll, however it ran out fast and there was no other way to get to Ripoll other than making a 5 hour detour east or west. Bicycles aren't allowed on the C17, but I asked a few old boys at a café if people did it and they said yes, if the cops pull you over tell them to build a rode for you, they said. Pretty funny chaps well into their cups. I speak in Spanish and they answer in Catalan, not sure what that means but they were quite friendly about the whole thing. So I hopped on the C17 and rode the 12 kilometers into Ripoll without incident (other than a few people beeping at me). The tunnels were a bit disconcerting when trucks were passing as there was hardly any shoulder, but I had my lights on and they gave me a wide berth.
At Ripoll I asked a Mosso d'Esquadra if the C26 up to the French border was fair game for bicycles all the way up and he said yes. On the way out of Ripoll I found another bike path that took me along the Ter river into Sant Joan de les Abadesses, an old railway bed apparently. Approaching Camprodon around 5pm I saw a campground that was open and got the urge for a shower. I pulled in and booked a night, showered, set up camp and made dinner, the last of the pasta Ri had cooked for me. About an hour and a half after a dinner I started to feel queasy and 20 minutes after that I was throwing up in the bathroom. Bad move eating the pasta. I think something in it might have been going bad to begin with, then after two days in the pannier it had definitely gone over to the dark side (although unfortunately not enough to taste it). Thank god I had gotten a campsite. I spent the rest of the night running between the tent and the bathroom with fever, vomiting, and diarrhoea. This is the second time I've gotten food poisoning in the Pyrenees, the other time was about 150 kilometres southwest of here when I did my Berlin-Barcelona-Toulouse trip in 2010. Thankfully this time wasn't quite as bad; in 2010 I spent three days holed up in a hotel and almost called an ambulance because I got severely dehydrated and couldn't even keep water down.