Day 1: Barcelona to south of Moià
---
Statistics for today
| | | |
| --- | --- | --- |
| Distance | 92.00 kms | 57.17 miles |
Statistics for trip to date
| | | |
| --- | --- | --- |
| Distance | 92.00 kms | 57.17 miles |
On this page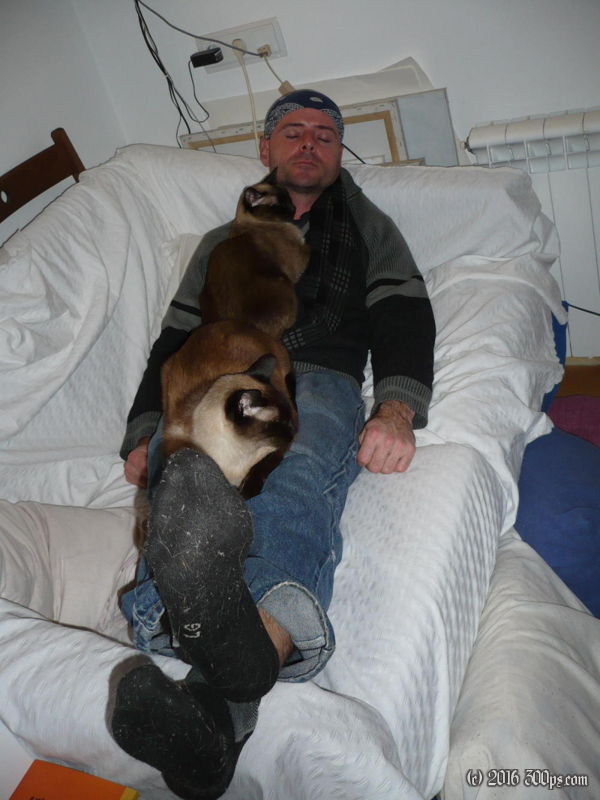 Sunday, March 25th, 2012
I have been living and travelling on a bicycle for most of the last two years. People keep asking me: Where's your blog? Ummm...it's in development... The truth is that I have a hard time even writing down the mileage at the end of the day when I'm travelling. I get into riding and camping and dealing with all the other joys of bicycle travel and up until now I just couldn't be bothered to write things down. I am terribly impressed by CGOAB'ers who manage to keep daily accounts from such places as Kazakhstan. But I've been convinced to make more of an effort, so here goes, starting small
I hadn't been on the bike since December. Comfy city life with Ri had settled in and I became a gym rat while waiting for the weather to warm up. I got a message from B inviting me up to Narbonne for a visit, "We'll bore you senseless". Nice, that would make the perfect tourism slogan for Narbonne. It was the perfect excuse to get off my ass and get back on the bike. Ri cooked me a up a huge batch of pasta and vegetables, I loaded up the panniers, and we set both of our cell phone alarms so I could get an early start out of the city to miss the Barcelona marathon chaos.
Morning finds us waking up an hour late; the clocks have changed but neither of our phones automatically adjusted. We said a hasty goodbye and I was off, cruising along for ten blocks until I ran into - the Barcelona marathon chaos. Nothing to be done, I had to wait a good half-hour for things to calm down before I could cross the race route. As I waited there were some scarily entertaining moments when senior citizens tried to cross the road without getting mowed down by the runners. One elderly lady even attempted it trailing her shopping caddy. I have no idea how she made it without getting trampled. Cheers, gramma.
Finally on my way. I've made the trip to Narbonne and back many times on the coast, so this time for a change of pace I was going to just head due north and wing it, seeing where I ended up. My first wingit consisted of trying a back road I hadn't been on before as I approached Tibidabo. Not such a good idea. I found myself on a 20% grade, huffing and puffing and barely staying upright at 4kph. At the top I felt like losing my cornflakes. Good morning! No better way to lose the rust an hour into the first tour of the year.
After that I thoroughly enjoyed the long descent into Sant Cugat. While crossing a bridge out by Ripollet I noticed cyclists riding on bike path below. I made my way down for a closer look and ended up following the path north along the Ripoll river for about 30 kilometers. It's mostly packed dirt but very enjoyable except for some wet crossings. I got off near San Llorenç and the climbing began. There was quite a bit of it for the rest of the day as I made my way north to Moià. I've been meaning to buy a bike computer with an altimeter to be able to quantify the climbing but I haven't gotten around to it so 'quite a bit of climbing' will have to suffice. The Parc Natural de Sant Llorenç is gorgeous. Small mountains, lush green from the recent rains, and winding river gorges. Around 6pm I decided to pack it in for the day near Moià. I followed a river canyon into the woods and found a great wild camping spot: perfectly flat with a layer of thick straw grass. I set up camp, warmed up some of Ri's pasta, then watched the bright stars on a cloudless night before retiring early as it was getting cold.