Near Winkelman to Tucson: Meep! Meep! And that's a wrap.
---
Map
Statistics for today
| | | |
| --- | --- | --- |
| Distance | 111.00 kms | 68.97 miles |
| Climbed | 1,337 meters | 4,386 feet |
| Ride time (hours) | 6.38 | - |
| Avg speed | 17.4 kph | - |
Statistics for trip to date
| | | |
| --- | --- | --- |
| Distance | 471.20 kms | 292.67 miles |
| Climbed | 7,965 meters | 26,132 feet |
| Ride time (hours) | 37.96 | - |
On this page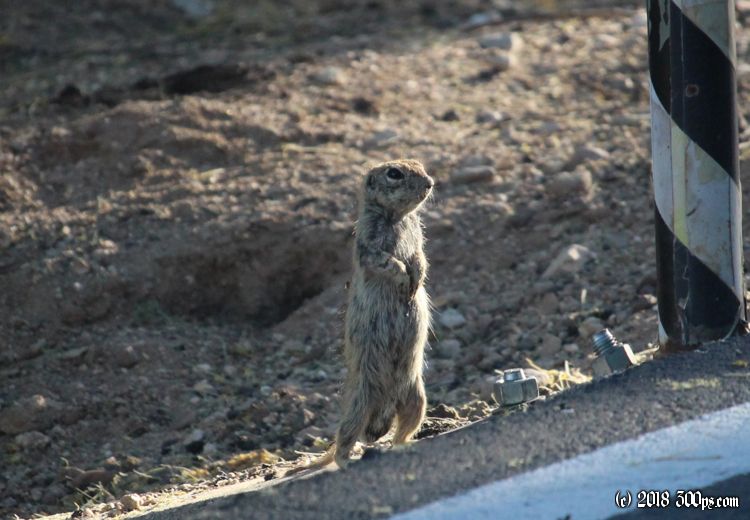 Sunday, April 28th, 2019
I got a text last night from my landlord saying my new place is opening up a few days early. I had planned to go over the backside of Mount Lemmon to get back to Tucson, but if I can move in early I'm just going to head for the city and maybe camp somewhere near Catalina to set myself up for an easy day tomorrow. I'm kind of relieved; it probably would have been a brutal climb and I'm pretty tired already.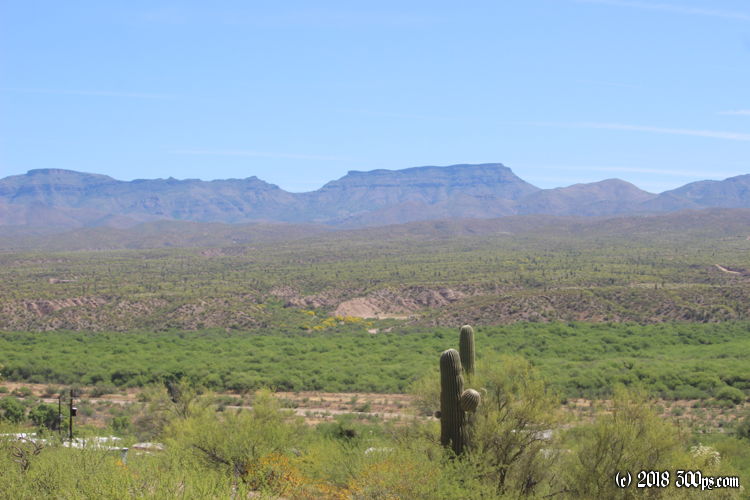 I'm out on the road early. I've got 20 miles to go to get to Mammoth where hopefully a Mexican breakfast awaits me. I spied a few promising looking places when I passed through there earlier this week. It is hot even given the early hour. I'm not really enjoying being on the pavement; people are driving fast and the shoulder sucks. For long stretches there are cracks every 10 feet that bounce me up and down. I should have a mirror on this bike so I could comfortably ride on the road then move over to the shoulder when I see a car coming. There's too much wind in my face to rely on my hearing to let me know what's coming up behind me.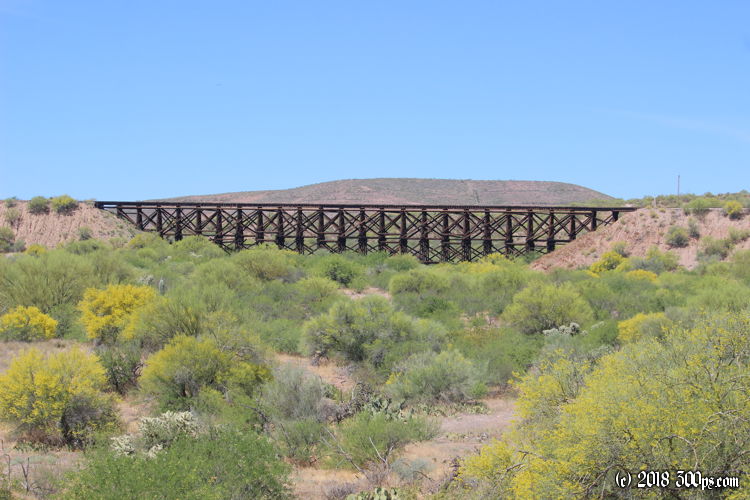 I find my Mexican restaurant. It's an all-you-can-eat breakfast buffet! They will rue the day they let a hungry cyclist into their establishment. I eat myself silly and quaff it off with a big glass of iced agua de jamaica. I'm so full when I leave I struggle to get the bicycle moving. As luck would have it, leaving Mammoth coincides with the start of a 2,000 foot climb up to Oracle. It takes me a good half hour to digest enough of my breakfast to feel vaguely efficient again.
I stop in Oracle to have a latte to celebrate the end of the climb. Sitting there farting around on the internet on the cafe patio I decide to just skip the camping tonight and head straight to Tucson. I book a motel room near the river not far from my new place.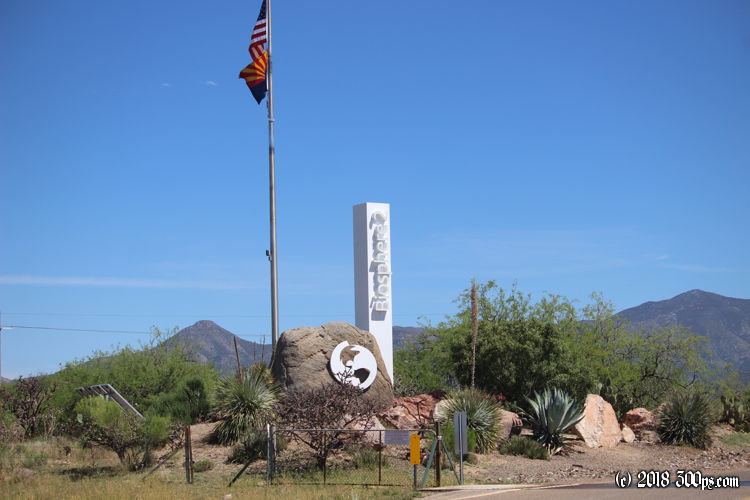 It's a long descent from Oracle to Oro Valley. I'm going against a fairly strong headwind so I don't get to fully enjoy the loss of altitude, but it's easy living all the same.
Near the start of the bike path I stop at a bike shop to replace my gloves that somehow went missing. I chat with the employees about my trip. When I recount my near miss with the rattlesnake one guy says I should get one of those SPOT GPS panic button devices. That would be the smart thing to do, to have the ability to get rescued if disaster strikes in the back country, but I'm not terribly smart when it comes to these things. Frankly I kind of enjoy the possibility of disaster in the back country -- it makes things exciting. I met people who carried such devices when I was in South America. You hit the button and the service calls the local authorities to send out a rescue party.
On the bike path I'm in for more downhill. I run into some wildlife on this last stretch into Tucson: roadrunners, cute little ground squirrels standing next to the path, Gambel's quails, and even a big Kingsnake slithering across the path.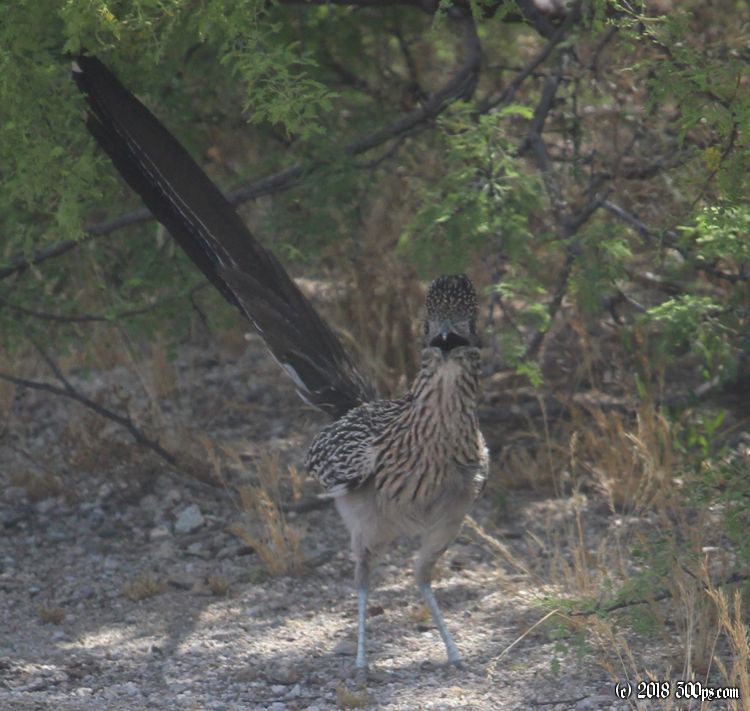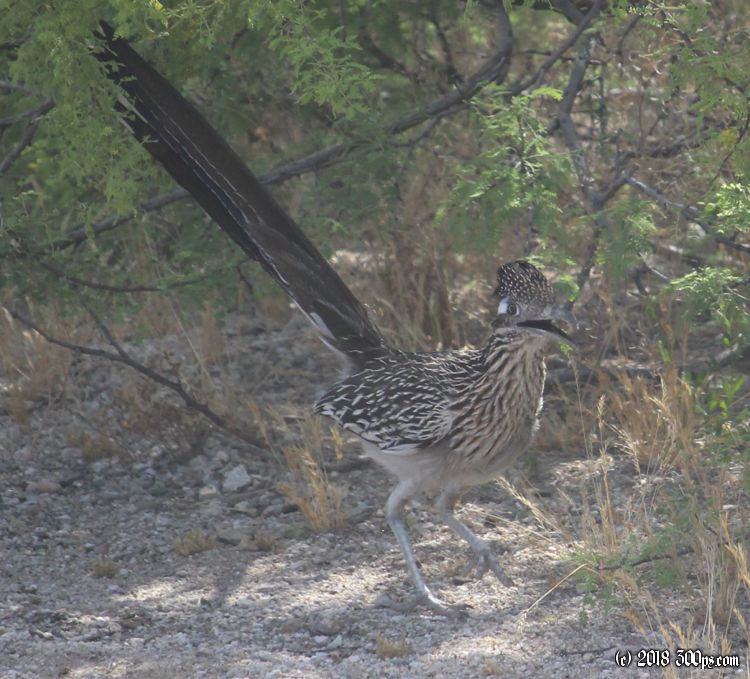 I drop the bicycle, pick up the motorcycle and head for my motel where a nice, long shower awaits me. I crash into bed and am fast asleep by 9pm. There you have it, a week of wandering the Arizona desert around Tucson.